Matterport Photography, Virtual Room Views and Street Views Trusted Sunshine Coast, Noosa, Caloundra, Maroochydore
Contact John - T: 0419716107 or Email: This email address is being protected from spambots. You need JavaScript enabled to view it.
We are the Sunshine Coast Street View Trusted Photographer and have Google accreditation to produce 360 Photography Services For Your Business. We are Virtual Tour Creators Sunshine Coast. Get a free quote today. VR For Real Estate. Services: 360 Photography Tours, 360 Real Estate Photo, 360 Real Estate Tours, 360 Panoramas, virtual tours restaurants, virtual tours accommodation, virtual tours resort, virtual tours gym.
How to find the Best Quality Virtual Tour Photographer
Just as with standard photography techniques Virtual Tours can be created in high quality and low quality. Low quality work won't attract as many viewers as high-quality virtual tours produced by John Wilson Media. It is very easy to spot low-quality Virtual Tour creators. Poor quality virtual tours generally have a couple of warning bells evident in their examples. Firstly the window views are generally blown out (overexposed), have little detail and poor colour and secondly the room views that also contain larger windows are poorly exposed and darker than they should be. We realize these are often cheap options but just as with the property photos you want to present your property looking its best, don't you? Otherwise, viewers will just skip through to another better looking listing or business.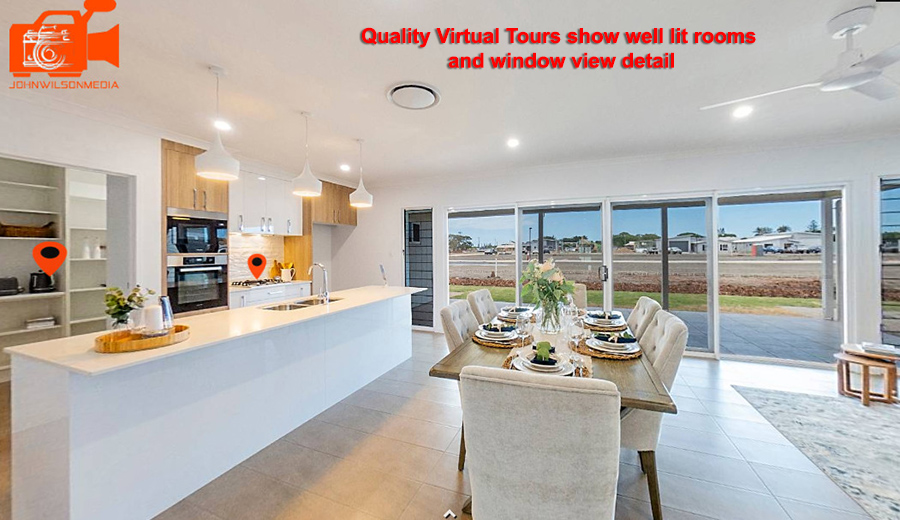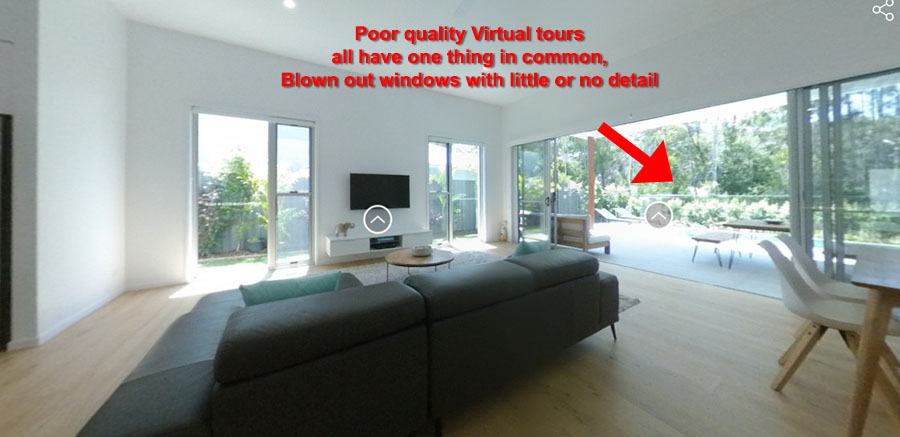 Who can benefit from 360-degree panorama photos and virtual tours?
If you need to present your Sunshine Coast property or business to potential online customers than 360 Panorama photography is a must have for your website and/or your Google My Business and Google Maps listing. John Wilson Media are Sunshine Coast 360 Panorama Photography and Virtual Tours specialists and the most experienced photographers in the Sunshine Coast with more than 25 years of experience in aerial photography in Australia and Internationally. As Virtual Tour makers, we can capture brilliant 360-degree panorama views for a variety of Sunshine Coast businesses whether it be Mooloolaba accommodation, Noosa resort, aged care facility, medical practice or any Sunshine Coast facility that can benefit from a visual representation.
Some of the businesses that can greatly benefit from 360 virtual tours and photography are:
resorts

restaurants

accommodation

shopping centres

aged care facilities

sporting facilities

Medical facilities
360 Degree Photography and Virtual tours are great for real estate sales. Property owners selling a house in Noosa to Caloundra can very effectively display rooms of a house or exterior gardens, pool and entertainment areas.
Sunshine Coast 360 DEGREE PHOTOGRAPHY AND VIRTUAL TOURS are the best way to promote business by giving potential visitors and buyers an immersive experience when viewing business and organization websites. Giving customers A Virtual Tour experience of a business or property with Panorama Photography is more engaging than a static photo because the viewer can look around inside a room for as long as they wish and unlike a video, it won't start and stop and have to be replayed again/
Don't forget 360-degree Panorama Photography for special events. John Wilson Media Panorama Photography can provide Panorama event photography for concerts, presentations, sporting events, and festivals.
Quality Virtual Tour sample below - Swipe around using your mouse or fingers if viewing on mobile devices.
360 Degree Panorama Locations - Where We Work
We supply 360 DEGREE PHOTOGRAPHY and VIRTUAL TOURS for business websites and help you get your business Google Street View created in the Sunshine Coast region including the following towns of Noosa, Coolum, Maroochydore, Caloundra, Nambour. In the Sunshine Coast hinterland we off 360 photography in Maleny and Montville.
360 Degree Matterport Photography Methods
Just as with more general photography there are skilled professionals and the unskilled. Some people try to do it themselves but for the best quality and service, it is always best to engage a professional 360-degree Panorama Photographer. The 360-degree photography and virtual tour a business uses must appear in the best possible quality otherwise the user experience will be poor. Good quality 360-degree photography using Matterport and other platforms will engage and immerse the viewer in your business. We fully edit and retouch the 360 Panorama photos we produce which result in the best quality imagery. Virtual tours are a valuable investment in business marketing.
Don't forget about Street Views. We can create a Google street view in the Sunshine Coast or a 360 photo for Google Business listings and we also do street views for Noosa Businesses. Give John a call to discuss your business needs: Tel 0 0419716107.
360 Photography - How Much Does It Cost
360 Photography and Virtual Tours prices
Virtual tours and 360 Panorama photography Sunshine Coast, Noosa, and Maroochydore are a cost-effective way to market your property. The price for 360 Panorama Photography and Virtual Tours include our visit to your property to capture all the images we require, processing and editing of the final images for use. We can also host your 360 Degree Business Panorama and provide a link that can be added to your website and allow easy viewing or alternatively provide the completed 360 Panorama for your website administrator to upload to your website. We can assist with Google street View and Google My Business photos to get your 360 Panorama into your Google Account.
360 Panorama Photography and Virtual Tours Prices
A 2-4 bedroom home can have a Premium Quality 360 virtual tour produced for reasonable cost considering this is the most accurate way to display rooms in a home. Prices vary for longer-term virtual tour hosting for websites. Contact John for details This email address is being protected from spambots. You need JavaScript enabled to view it.
Virtual tours are very easy to install on major real estate portals. Once we create your property virtual tour we provide a simple link that is copied and pasted into the 3D tour section of the listing and that is it, Simple!!, and you are ready to give your potential buyers the best possible viewing experience.
Other Google Local Search Services for Business
Specialist Photography and Marketing Services to raise the profile of your business online in local search.
We can help business with the following (and other) Photography services for your business :
Aerial Photography – Aerial Photos, Aerial 360 Photospheres and Virtual Tours
Corporate Headshots – Headshots for Business and Social Media
Product Photography – Product Photos for your website
Please Contact John for further details.
Contact John - T: 0419716107 or Email: This email address is being protected from spambots. You need JavaScript enabled to view it.