Kinnho Teppanyaki Restaurant Mooloolaba Fitout By Hiller - Commercial Photography by John Wilson Media
Hiller, Hospitality and Design company was engaged by Kinnho Restaurant to revamp their existing sushi food venue in the heart of Mooloolaba recently. With a vision to change direction and offer diners an engaging dining experience, Kinnho decided to create a teppanyaki style refit to their restaurant.
What is Teppanyaki?
The teppanyaki style of food preparation is about 200 years old and originates in Japan. The name teppanyaki is derived from the words 'teppan' (iron plate) and 'yaki' (grilled, boiled, or pan-fried). So, it literally means 'grilling on an iron plate' and was originally a method of food preparation by families. Modern Teppanyaki food preparation combines eastern flavours with western side dishes and is produced with a skillful performance of flailing knives and fast food movement over the hotplate. It is as much a visual experience as culinary and an enjoyable way to share a meal with family and friends.
Hiller supplied all materials, from the benchtops, flooring, and cladding to make a strong visual impact whilst being practical and within budget. The final result is a testament to the collaborative and creative abilities of the design and fit out team at Hiller.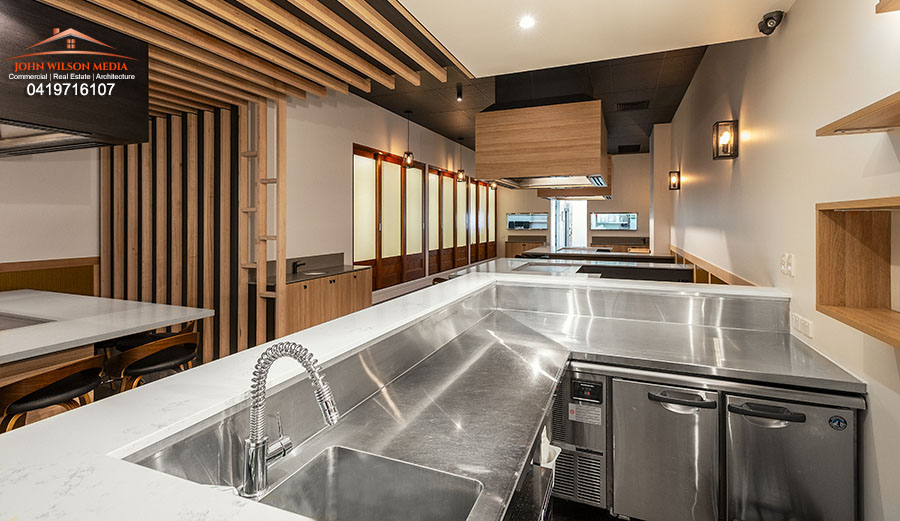 Photographing The Restaurant
For the interior design photography, we decided to make use of the lovely ambience created by the restaurant lighting. The colour temperature of the daylight and its strength streaming in through the front windows overpowered the internal ambience and in order to eliminate this, we needed to mask off the strong outside light from the front of the restaurant with black sheeting. This extra preparation of the room for photography paid dividends by providing eye-catching photos of the cooking stations and overall layout and design achieved by our client Hiller.
For more information about our Sunshine Coast Commercial Photography please call John - 0419716107 or Email This email address is being protected from spambots. You need JavaScript enabled to view it..