What are 3D Virtual Tours and Virtual Tour Software?
A 3D Virtual Tour and Virtual House Tour is visual technology that allows the viewer to see a room or spaces in 360 degree view in a single image using 360 panorama photography and 360 video. John Wilson Media are specialist Virtual Tour creators for Hervey Bay, Bundaberg, Maryborough and Gympie region as well as SE Queensland
The benefits to Hervey Bay, Bundaberg, Maryborough businesses are immense. Photo slideshows are okay and a slick video of a property or business can be good but allowing the viewer to scroll around in 360 degrees inside a rooms or rooms will convert viewers into buyers/visitors much quicker than traditional ways to display rooms and places. Getting found on Google has become very important and you can use virtual tours and 360 photography to enhance your google street view appeal and your boost your google business page.
The Virtual Tour below from Alexander Beachfront Apartments in Hervey Bay shows how a Virtual Tour is displayed for accommodation locations in the Wide Bay and Fraser Coast region. Scroll around the entire room or choose a different room from the choices at the bottom of the frame.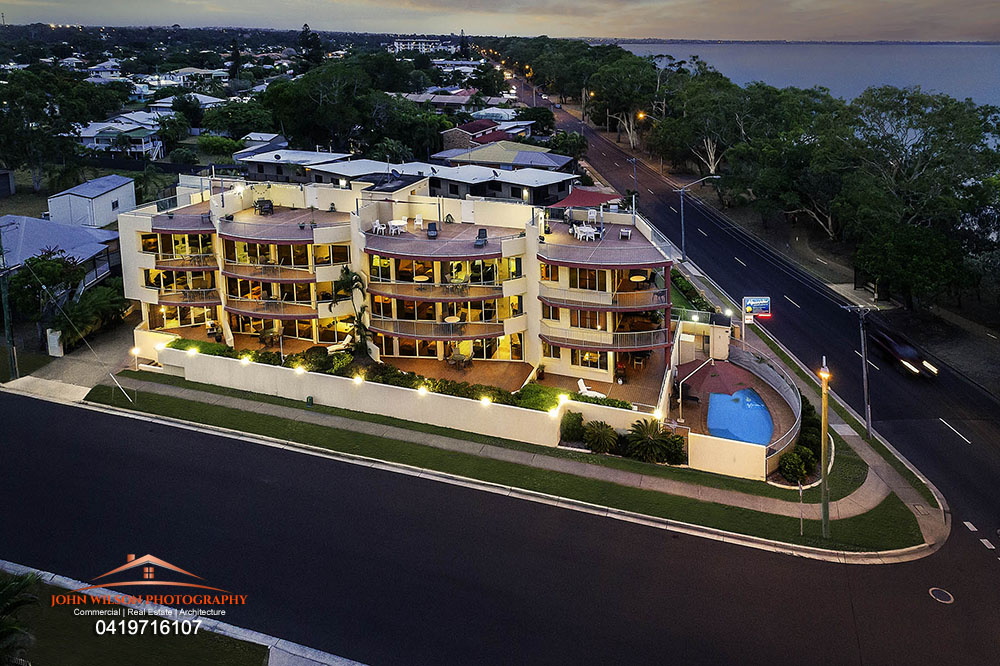 Call 0419716107
for Virtual Tour Creation
You can tell the difference between our professional virtual tour service and other less quality services by taking note of the window views which are of critical importance if selling views to cutomers but also for creating a realistic view of rooms. Our window views are exposed correctly while amateurish services have window views blown out or over exposed as in the example below. Don't pay for this poor quality.


How do I add a Virtual Tour to my website and social media platforms?
No fancy and expensive Virtual Tour software is required and adding a Virtual Tour or 360 Photo to your website can be done with some basic additions to a webpage just like adding a video or a link etc. The other added benefit of adding a Virtual Tour to a website is that it only takes up the space of a single making your page much more readable and user friendly.
How much does a virtual tour cost?
Virtual tours are a cost effective way to market your property and accommodation. Be aware of some real estate agents pushing a very expensive virtual tour option and it simply is not required and a virtual tour of your property produced by John Wilson Media is a well priced marketing initiative. John Wilson Media is a Virtual Tour creator specialist and qualified professional photographers and will help with producing a virtual tour for your business in the Wide Bay and Burnett region. We can produce a single room or location view but most businesses and properties will require several room views to show different rooms available. For more information Call John 0419716107.