Sunshine Coast Real Estate Photographer Services Specialist Property Photography
Professional Real Estate Photographer Sunshine Coast prices | Real Estate Video | Aerial Photography| Best Quality House Photography Sunshine Coast Services
Sunshine Coast Photographer and surrounding districts. Real estate photography Sunshine Coast, house photographers specialists and discount photography packages available. Our number one aim as real estate photographers Sunshine Coast is to help sell your home, land or commercial business and we can help you with real estate marketing and display advice. Our extensive service area covers Noosa real estate to Caloundra, west to Maleny and hinterland real estate and South Burnett from Nanango to Kingaroy. Sunshine Coast AirB&B accommodation photography also available. Professional Sunshine Coast Photographer, John Wilson, has been providing clients throughout SE Queensland quality property photography services for more than 25 years. We photograph and video real estate in Maroochydore, Sippy Downs, Buderim, Yandina, Nambour and Cooroy for residential sales or commercial property photography. John Wilson Media offers a range of Real Estate photography services to help sell your house or property as quickly as possible and we can help with commercial real estate Sunshine Coast and land for sale. Our quality visual presentation of your property is key to attracting buyers and potential real estate sales for Sunshine Coast sellers and we offer fast turnaround times in most cases. We also offer real estate photography Bribie Island for house sales and commercial property for sale.
As professional house photographers Sunshine Coast, sellers or agents can choose from a number of quality real estate photography services we provide such as property photography including interior and exterior photography, aerial photography sunshine coast and real estate video, Dusk photography, Real Estate floor plans and walk through video can be booked. We also offer virtual staging for empty rooms of properties, see below for more details. We photograph real estate in Maroochydore, Sippy Downs, Buderim, Yandina, Nambour and Cooroy for residential sales or commercial property photography. We can help with Sunshine Coast apartment photography for new building projects to capture interior photography for marketing and sales. Sunshine Coast Resorts in Noosa Heads, Coolum, Maroochydore to Caloundra and holiday accommodation can make use of our services to photograph properties for tourism and marketing campaigns.
Real Estate Photography Sunshine Coast Services
Quality interior and exterior photography
Aerial Drone Photography
Floor Plans
Virtual Staging
Walkthrough video
High-end image editing
Dusk photography
Whatever price range your property falls into, whether it is a designer Noosa real estate property or a modest home, having a good portfolio of images will definitely benefit your house sale and statistics support this. Commercial property for sale Sunshine Coast will also benefit from our property photography and we often provide aerial drone photography in combination with ground site photos and surrounding lifestyle photography if this will help with the marketing of properties.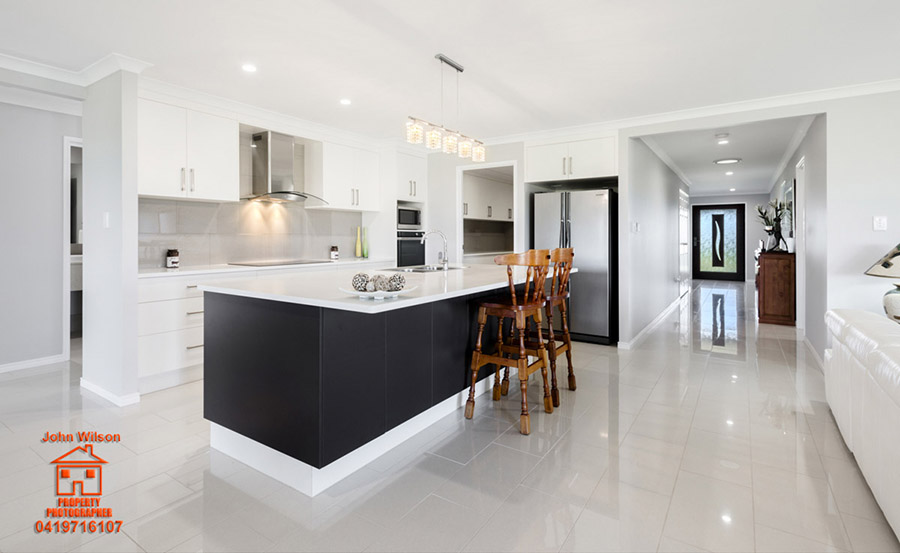 Follow this process to sell property on the Sunshine Coast
You've decided to sell your house and you head off to find an agent to help with its sale. The only problem with this is that an agent may or may not be interested in how your home will be presented in the marketing you wish to do. I know what you are thinking! I hear you say "Of course a real estate agent will care about how our house is presented, we are paying them an advertising fee and a commission after all". Sadly this is not always the case with agents and a little research online will clearly show it to be. The main reason for this is that some agents are only focused on their commissions and getting the largest number of listings and the client is secondary. We've done some real estate industry research and written some helpful articles for sunshine coast property sellers and people eager to list their homes for sale in Noosa or elsewhere on the Coast or Maleny hinterland. Take a look via the useful links below to read about how to identify the telltale signs an agent is all about themselves and what to steer clear of plus the increased sales potential good quality photography adds to a sale. An alternative to selling with an agent is to sell privately and there are several good websites that allow property owners to list and sell their properties on the major property websites of www.realestate.com.au and www.domain.com.au for a one off cost which is way below any agent commission. Vist the link below for this information and adcvice.
Finding A Good Real Estate Agent Sunshine Coast - Read More Here
Why Good house Photography should be a no-brainer - The stats about real estate photography
Sell My Home Privately Sunshine Coast
Our suggestion to home sellers is to make your first step in selling your property should be to engage a professional photographer to photograph your house and then look for an agent using the tips we have mentioned in the article suggested above. Did you know some agents will simply wander through your property with their camera phones taking pictures and use these in your property listing? This is not good enough in the competitive house sale market. Sellers can eliminate this possibility by hiring a professional real estate photographer on the Sunshine Coast and they can then go looking for an agent armed with a great portfolio of property photography for their listing. Another benefit of this home selling strategy is if a seller decides to switch agents they still retain their photos for the next agent property listing.
Architectural Photographer and Interior Photographer Sunshine Coast
Do you need some architectural photography on the Sunshine Coast or have a designer home you would like photographed? As architectural photographers sunshine coast, we have worked with interior designers, architects, and homeowners to capture the beauty and aesthetics of their properties with excellent interior and exterior photography. A unique home design at Noosa or elsewhere on the sunshine coast deserves a quality photography session from us. We use a range of in-camera techniques such as HDR photography and post-processing techniques to beautifully enhance images and show Sunshine Coast architecture or interior design at its best. Get in touch with John to discuss the options for quality architectural photography and stunning interior photography. We can even produce a printed and bound coffee table book of your wonderful designer home or architects masterpiece.
Real Estate Photography Pricing Guide - Sunshine Coast House Photography
Standard Photo-shoot Pricing from $200 incl gst (Up to 8 photos included)
Our prices for Sunshine Coast real estate photography start from $200. We will generally spend an hour and a half and more on larger properties and spend the time using special techniques and lighting to create the quality work we are known for. For luxury properties and accommodation we have entire day shoots available to capture all the character of the property. These shoots include twilight evening or morning photography. We are professional interior photographers and property photographers and we don't do point and shoot photos like others. These photography sessions are based on the property ready to be photographed with all rooms and outdoor areas tidied and cleaned. We will not be moving any items, furniture or power cables etc and areas will be photographed as they are presented to us and images have basic editing.
REAL ESTATE AGENTS : We always aim to have property images available in a day or 2 for agents. For this service, we expect to be paid via verified bank deposit the day the work will be delivered. If this isn't suitable, don't call us, thank you.
High-Quality Property Photography Packages
Property sales is a competitive market and we understand the need to have the visual edge over competing properties in a market. Our High-quality premium real estate photography will suit property agents, air B&B property owners and private owners wanting to gain the marketing edge and promote prestige and quality in their listing. As mentioned above our premium packages particularly suit luxury and architect designed homes and apartments. Showpiece and prestige properties will benefit from one of our hi-end real estate photography sessions. We spend much more producing this work which can incorporate all our services such as interior and exterior photography, aerial photography and video, internal video, floor plan and site plans. We used advanced editing techniques where required with techniques such as sky replacement, window masking, item removal and we incorporate additional lighting techniques where beneficial. We also are hired by interior designers and home builders wanting quality real estate photography of their projects for marketing and housing award entries.
Real Estate Photographer Sunshine Coast PRICING GUIDE
Get in touch for prices for the popular services we provide for real estate photography Sunshine Coast. Don't forget we can add video, twilight shoots, and aerial video to any service. We can customize a package to include whatever services you would like at a discounted price. Please use the contact form on this page or phone John on 0419716107 to discuss your needs.
Terms and Conditions
We give 7-day accounts to established business clients and for private homeowners, we expect payment prior to work or cash on the day (if this has been discussed with John). Payments may be made via direct deposit or via credit card which has a 2.6% handling fee added to the total cost. In some circumstances, we will allow 50% payment prior to work and the balance in cash on the day. All monies paid prior to work is considered as the booking fee for the work
Cancellation Refunds
For cancellation within 7 days of the work, there will be no refund of the booking fee paid however we can reschedule the date for the work. The rescheduled date will be at a time suitable to our schedule and will be discussed with the client.

Contact and Opening Details
We are available 7 days a week. Please call John TEL: 0419716106 or use the form below to discuss your needs.
Real Estate/Property Services
Daytime and Dusk House Photography Sunshine Coast
We can plan to photograph your property to take advantage of the best daytime light and you also offer an option to photograph your house at dusk to add some mood and sophistication to a property image. We can also add more picturesque skies to images if desired. This can be done at a minimal extra cost per image.
Commercial Real Estate Photography
We work with commercial real estate agents from around the country to photograph large and small commercial properties not only on the Sunshine Coast and Noosa but throughout regional Queensland. We have real estate photography services available for property in Chinchilla, Roma, Kingaroy and other Burnett locations. Get in touch with John for your specific requirements.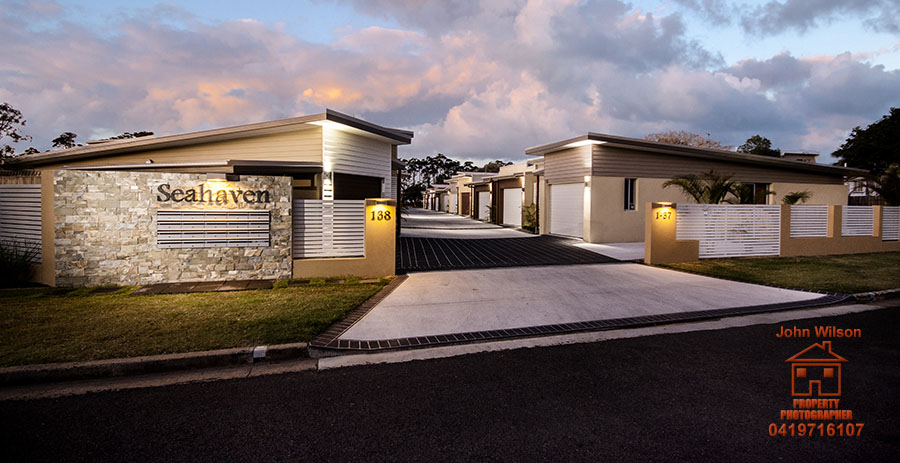 Real Estate Marketing Floor Plan and or Site Plan
Did you know that a survey of prospective property buyers showed 97% of people chose to look closer at property details that included a floor plan? A real estate marketing floor plan will help you sell property whether its homes for sale sunshine coast, rural properties for sale or commercial real estate for sale. We can produce a floor plan of your property in standard 2D format or in an engaging Coloured Textured format that gives a simulated 3D look. When we visit your property to for photography we will also laser measure each room so we can produce great Floor Plan graphics. We can also produce a property site plans. Speak to John about this service and cost.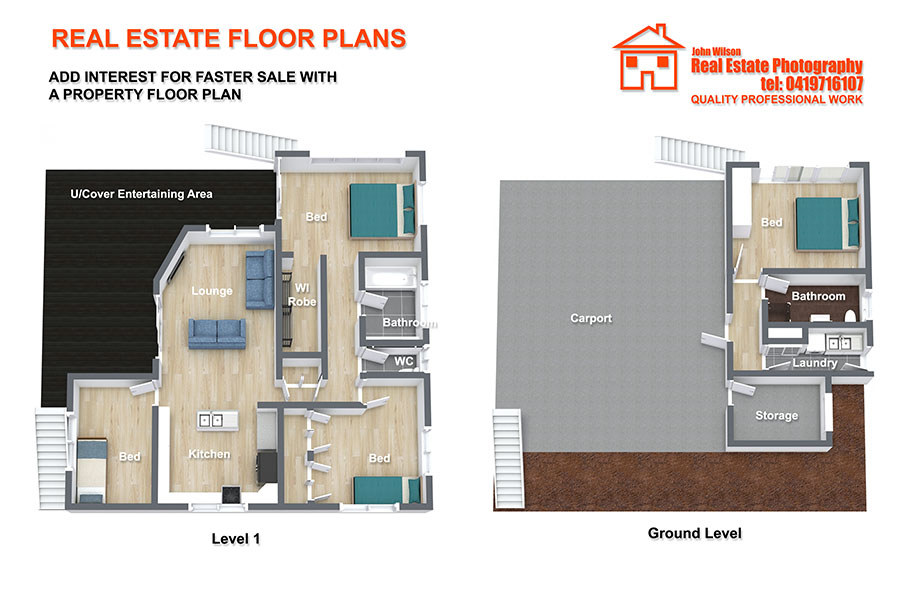 Virtual Staging for Real Estate Photography Sunshine Coast
Our virtual staging service is ideal for a property with empty rooms. Furnished rooms will have far greater attraction to potential buyers and virtual staging is a quick and cost-effective way to effectively market unfurnished houses on the Sunshine Coast. Price for virtual staging is $40 per room.

Aerial Photography - Real Estate Drone Photography
Some properties can greatly benefit from aerial photography whether to show its proximity to the beach or other points of interest or just to give a beautiful elevated perspective of the property presentation.
Our real estate drone photography option is ideally suited for sunshine coast real estate agents or commercial property for sale and homes for sale sunshine coast. Real estate drone photography can also be combined with a real estate virtual tour and real estate video sunshine coast to help sell a property.
Property video services
To compliment your property photography we can also offer video presentation. The Sunshine Coast Property videos we produce can show walkthrough presentation, exterior showcase and aerial filming packaged into a short attention-grabbing video.
Fast Delivery for photography delivery
We understand the need to get your property photography displayed to potential clients quickly and we will do our best to minimize the time from actual photography to delivery of project images. In most cases, 24 - 48 hours is our delivery time. In some exceptional cases, we have delivered our work the same day! We want to help you sell your property and we believe quick delivery is as important as great photography.
With fast delivery times, we do expect our clients to show reciprocal courtesy and pay our invoices promptly. Private clients will be required to pay in full before work can commence unless they have worked with us previously.
Social Media Marketing and Property Listing
Social media marketing of your property is a must if you want your property to have the maximum reach to potential buyers. When you hire us for a complete visual marketing package including ground photography, aerial photography and floor plan graphics we will also list your property via social media for maximum marketing impact and reach without additional cost. It's a simple philosophy but getting your property in front of as many eyes as possible is one of the keys to selling your property quickly and social media will help do this. Whether it is rural real estate QLD, acreage for sale south east QLD, an estate or private home sale QLD we can make a listing for you which will also help if you already have a listing with other sites such as Domain and RealEstate. Sometimes properties can get lost on larger sites unless hefty fees are paid to maintain top positions but best practice is to spread your marketing across networks to maximize visibility. Here are current listings we are featuring Qld Property Sales.
Social Media Marketing for Property on Instagram, Facebook and Website Featured Listing that is included with our complete photography packages

Tags: sunshine coast real estate photographer, Real Estate Photographer Sunshine Coast, property photography Sunshine Coast, architectural photographer, interior design photographer, commercial real estate photography, Real Estate Photography Sunshine Coast, Sunshine Coast Real Estate Photographers, House photographer Sunshine Coast, Commercial architecture photographer Sunshine Coast, Sunshine Coast Photographer