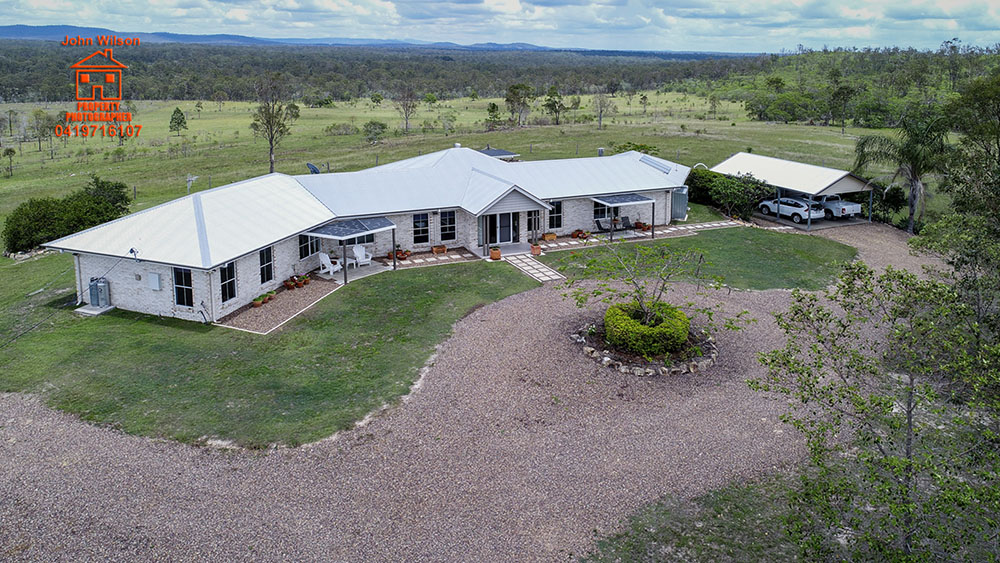 PRIVATE HOUSE SALE SUCCESS for 1003 Old Gayndah Road, Gungaloon, Qld 4620 real estate sales in QLD
Another of the many homes we have photographed for private house sale has recently sold saving the homeowners about 20k+ in agents commission and marketing fees. The house was on the market for 4 weeks total in the Maryborough region!!
QLD homeowners Kathy and Peter hired John Wilson Media Property Photography to photograph their home recently at 1003 Old Gayndah rd near Maryborough. I was impressed with the property from the moment I arrived and the owners had prepared the property beautifully for photography. The well-appointed residence is situated on a gentle hilltop as part of the 164-acre property. Stunning views across the valley can be seen from most rooms in the home and there is even an outdoor jacuzzi where you can relax with a wine and watch beautiful sunsets over the mountains.
Currently home sellers have a variety of options to sell the property. There will always be a need for real estate agents for various reasons but if you have the time to take a few calls and show people through your house for sale you stand to save many thousands of dollars by selling real estate privately. Property sellers can get far higher prices by selling homes privately in Qld and other states. The fact is, home owners are not required to sell a house through an agent and real estate agents are simply offering a service to list your property for a very hefty commission. Sellers also need to realize that there is no incredible learned skill in becoming a residential real estate agent and they get their license by simply answering a few questions and paying $500, that is it and many of them do this online. The agent will simply list the property online in about 15-20 minutes and maybe put up a sign then wait for calls, this can be done by just about anyone. For this small amount of effort agents then command incredible amounts of money in commissions and home sellers in QLD can save a ton of money selling privately which is extremely easy and we even have a page that provides information to get you started which you can find here - Sell Your Home Privately Advice.
Please contact John if you would like your house professionally photographed or just want some advice on selling homes privately in QLD. 0419716107