Finding A Bad Real Estate Agent - What to look for.
As a real estate photographer, I've worked with many agents and agencies throughout Qld, Sunshine Coast and abroad for about 25 years. The majority of residential agents I have worked with are highly motivated and enthusiastic towards achieving a successful outcome for a property sale. Unfortunately, the real estate industry is not immune to poor operators. I can pick a poor operator a mile away but first time sellers and buyers may find this difficult ( See our latest agent research below). Finding a great Real Estate agent can save you a lot of time AND money but sellers and buyers also need to be aware of telltale signs an agent is only in it for themselves. Home buyers and sellers need to realize that there are no great qualifications required to become a real estate agent and for $500 and answer a few questions you too can become an agent and for as little as $2000 you can call yourself an agency. It really is a minimal skill for huge commissions charged. Real Estate agents work on commission and some get conditioned to serving their own interests ahead of their clients. Some poorly motivated agents are happy to do the absolute minimum for a seller despite the advertising money being paid up front. Some will even talk the price of the property down just to get a quick sale and commission. These agents typically are content to sit back and play the numbers game - they are more concerned with getting many listings in an effort to capture some sales rather than actively help promote and create eye-catching listings for clients. Always remember you have the right to sell your home privately or purchase a house from a seller selling privately. There are absolutely no laws requiring an agent be involved in a house sale and agents are simply offering a service you can choose to use or not.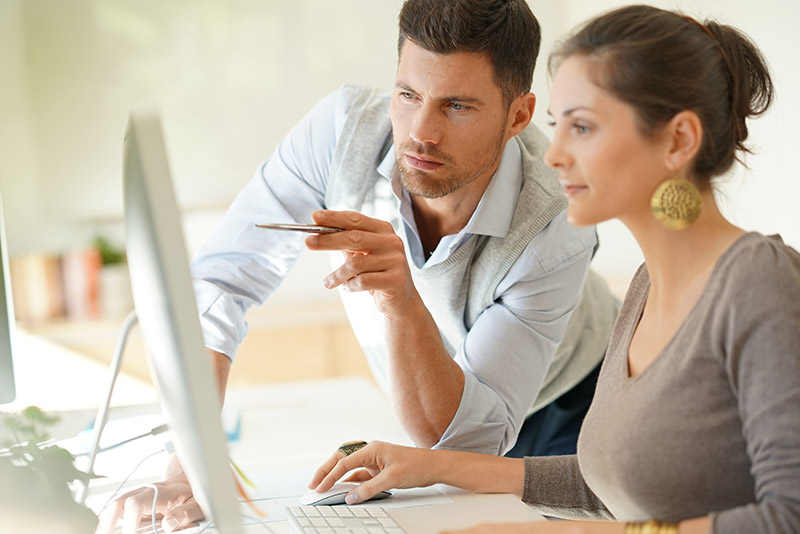 Research - More than 90% of potential buyers search online first. We've done some research, which you can see below, to help you with agent search and choice.
Ask Questions - Don't be shy
Don't be shy when it comes to choosing an agent. Just because they hang their shingle out and are open for business won't guarantee they are the best choice for you. Ask questions. It's your house or money that you've worked hard for so stand up for yourself, ask plenty of questions and don't let slick banter or bullying behavior push you into something you may not like.
If you are selling, asking a few simple existential questions will establish an agents motivation as to why they are in the business. It goes without saying that an agent should be in business to help people, both the buyer and seller and enables a sale in the smoothest possible way. They should also enjoy and be positive about the area, town or city they work in. Positive and progressive agents will always be looking at ways to improve their service to help their clients. Try using the questions below to find out if an agent is keen to help you or just going through the motions to get a commission.
What do you like about your job?
What makes you a great agent?
Why do you do what you do?
Do you work with buyers or do you work with sellers?
What is the future like for your business?
How many sales a year do you make?
What makes a great property listing?
The best agent is the one that is interested in the outcome for the clients over and above the outcome they receive from a sale. If their answers to the questions you ask them totally revolve around themselves such as I'm the best agent because I have the biggest numbers and I have more signs than anyone else and I'm this and I'm that or I'm the real estate leader, you can rest assured this agent will be about his own interests way before yours. You don't need to be making a sale or purchase with an egotist. A good real estate agent will be a good people person and negotiator, someone who is empathetic toward both parties involved in the sale of the property. They will be interested in you as a client and make you feel confident about the process ahead. They should also have property presentation as a priority in their discussions and offer advice. They should be suggesting some professional photography and possibly video if you don't already have this. With 90% of potential buyers looking online first, sellers must have good photos and there really is no choice in this if you want the best price and most attention with your listing. There are examples below that show the difference between agents that care about presentation and those that don't.
Finding out the total cost
An agent should be absolutely upfront with all the costs involved with them selling your property. The way and amount of commission an agent charges can vary from agent to agent. Don't be afraid to haggle and don't settle for the cheapest deal just because its cheap. Cheap usually has a good reason that won't necessarily mean a quick sale or the best price. The best process to nail down a good deal with your agent is to narrow down your search to three or four agents you like and have quality presentation online and then talk about costs involved. How much haggling success you have will depend on the quality of the listing you are offering. If your house is well presented and fits nicely into the price range you are seeking, you are in a good position but if you have issues with the property that will take some keen marketing savvy to get a deal done then you won't have much bargaining power.
Make sure you know what all the marketing costs are and get a breakdown of them. We have known agents to charge large sums of money for placing a property add in the local newspaper property guide and this is simply a case of poor marketing and money grabbing. Having worked in the newspaper industry most of my career I can tell you from experience that advertising in local newspaper property pages has next to no benefit and is money wasted. Newspapers readership is plummeting partly due to internet use where most people begin their search for a property or choose to list their property for sale. We believe the property listing in a local property guide should be complimentary from the agent and not additional cost to the seller.
Some agents may offer some help with marketing such as free photography. This can be useful but I have known agents to offer this and just take the photos themselves with their iPhones etc. If you are offered free photography make sure you check out who the photographer is. If an agent is taking 10k to 20k in commission and an extra 2k to 5k in marketing, you have every right to have the best photography for your property if they are offering this as part of the deal. Some agents will use the absolute cheapest photographer and these photographers are generally poorly skilled and/or lazy and will typically rush through a house flash on camera and wildly snap away producing poor quality photography. In this case the offer of free photography is actually a disservice. See the examples below of poor quality house listings we found on the web. Some of these agents have used cheap photographers and the poor results speak for themselves. We believe sellers should arrange to have their property photography done prior to speaking with an agent. With this process, a seller is free to use the photos with another agent or they decide to sell their house privately online. The take away from this is, don't be afraid to question the sweeteners an agent will offer to get your listing.
Referrals
If you can't make up your mind about an agent another very good process to go through is to ask the agent to refer 2 or 3 recent clients who you can speak with about their experience. If you don't get a quick response to this or there is a lot of bluster and dismissing of the question you should probably move on to another agent. A good real estate agent should be able to discuss some recent client stories with you and explain any complexities to the sales and how they achieved success. You can back this up via a discussion with the client that has been recommended.
The Camera Never Lies!
Remember this when searching for a real estate agent - Your house street appeal is your responsibility but your house web appeal is your agents - I explain this below.
There is also another way you can tell if an agent or agency truly care about their work or are just going through the motions and this has to with how they market their business through their listings. With 90% of people now researching properties online before they even speak to an agent, it stands to reason an agent must make every effort to make their online presence stand out and look professional. Sounds obvious, doesn't it? But take a look at the listing examples below from different agents which we researched. The listing displays on the left show homes with good photography, the houses have been professionally photographed and the display invites interest and is pleasing to the eye. The other examples are disasters. How any agent can think they can generate interest in a house with such poor quality photography and displays beggars belief. It shouldn't matter what price range a property is in. A great presentation will guarantee the best outcome for the property sale and an agent that has taken the time and spent the money to produce a professional website with great presentations of listings is who you should consider to team up with. Even if you don't particularly care about the agents own website, the look and quality of their listings are a good guide to their concern for presentation and also remember the agent will use these photos on the most important real estate listing websites of Domain and Realeatate. So, before stepping into an agents office, do some research from the comfort of your home via your computer. Make a list of those agents that obviously care about how the houses they are selling are presented. You could also search for properties for sale in the area you are selling or buying and noting the quality of photography for the listings and the agents involved. This will give you a really good start which you can back up with some questions like those above to help make the best choice to sell or buy a property. Simply put, if your agent is going to charge you $10k to $20k in commission you deserve to have your property listed and displayed well don't you think? Old time agents will probably disregard this expectation but they do so at their own peril as more and more marketing savvy sellers and buyers use online listings for their real estate needs.
Real Estate Seller Education - This Will Help You
Sellers need to educate themselves about the quality of real estate agents not only about competition in their price range. Look for an agent that cares about house presentation. Below is our SHAME FILES as part of our research into real estate listings presented in an easy-to-see comparison of good listings that will help sell a property and poor listings. A little online research can help you find which agents mean business, have great listings and will benefit you with great photography and plenty of description. Also, remember to check an agents website via your smartphone or tablet as well as your computer. Property research is increasingly being done via smartphones and tablets, not at the agent's office like the old days, and websites need to be optimized to show listings on these devices. The main takeaway from all of the above is about how much the agent cares about the presentation of the house they are selling. Even if your listing is placed on the main property websites by the agent, which is the absolute priority, your home presentation is a key factor in attracting potential buyers. If the agent doesn't value good real estate photography, for whatever reason, Sellers should be looking elsewhere.

REMEMBER MORE THAN 90% OF PEOPLE SEARCH FOR PROPERTIES ONLINE BEFORE SPEAKING TO AN AGENT
Property Sellers are welcome to contact John for the list of Real Estate Agents studied for this report
In one of the examples above of the poor listing, the agent linked to the property has the hide to state the following " personal enthusiasm, results-driven focus coupled with the "can do attitude" makes buying and or selling property with him a pleasure". This can hardly be the case with such absolute disregard for the quality of the property listing. In fact, the agency involved is doing the seller a disservice displaying such poor photos and to top this all off, many buyers will have to pay an agent for advertising up front on top of any commission for the agent. Little wonder some agents couldn't care less as they have no real stake in the property whether it sells or not, their costs are covered and so they can just wait as long as they want. In another poor quality listing the agent has listed the property for luxury lifestyle and while the house is priced at well over $1 million the poor quality photos make the house look cheap. All the more reason for a seller to do good research and spend a little extra time getting some great photos and then really putting the microscope over potential agents to find someone genuinely interested in the industry and helping people achieve the best outcomes with their property transactions.
In our research, for this article, we were appalled at the number of really poor listings displayed by real estate agents. As professional photographers, we understand that some properties will look better than others but this is absolutely no excuse for poorly lit, unsharp and poorly framed photos in a listing. Take a look at other products that sell for similar money and you won't find poor photography!
SPECIAL OFFER - Our Suggestion for a Successful Property Listing
We suggest home sellers engage a professional photographer to photograph their property before they begin looking for an agent. It doesn't matter what price range your property is in and every property will have positive benefits from good quality photography. Statistics prove this absolutely! This has two benefits for the house seller. It eliminates the chance of your property being displayed poorly and secondly if you do decide to change agents you still retain the rights to your photos.
If you are looking to have your property photographed or video we have a special offer for property owners that mention this page to us. We will give a 50% discount for a property floor plan to a client who books 2 or more of our real estate photography services Sunshine Coast, Brisbane, Gympie or Wide Bay. You could save up to $70!! Leave some details below and we'll get in touch asap to discuss your needs.
Best of luck with your real estate dealings and don't forget we can photograph, video and produce great floor plan graphics for your property to get noticed!! Contact John Tel: +61 0410716017
View our real estate photography Sunshine Coast Page HERE